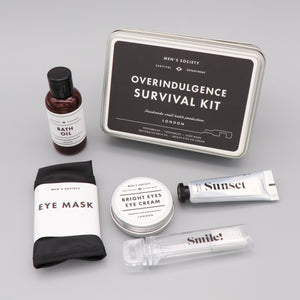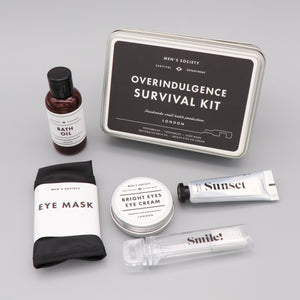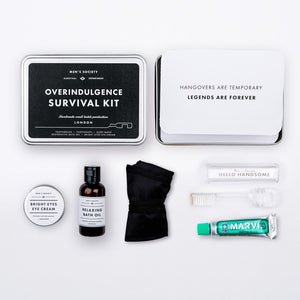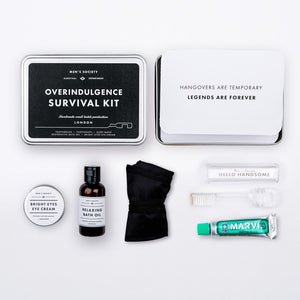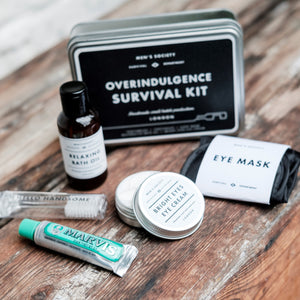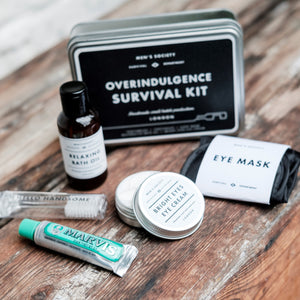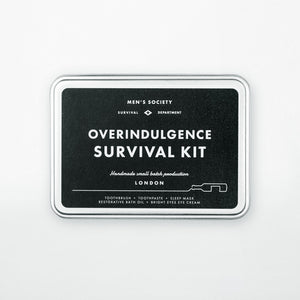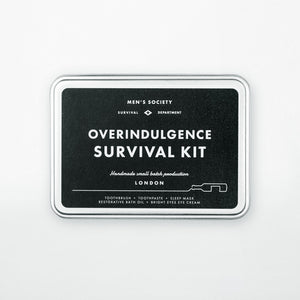 On Sale
Personalised Gift Overindulgence Survival Kit
Feeling heavy after a big night out? Well no need to worry because after using this kit you'll be feeling fantastic! We've managed to collect the essentials that you'll need to freshen up the morning after that long night partying.
Contains:
50ml Bottle bath oil
30ml Tin Eye cream
10ml Tube mint toothpaste
1 x Travel toothbrush
1 x Black eyemask
Description 14 x 10.35 cm 
Sleep Mask.
Restoration Bath Oil.
Bright Eyes Eye Cream.
Toothbrush and toothpaste.
Ingredients:
Restorative Bath Oil 50ml Grapeseed Oil, Lavender, Sandalwood, Cedarwood, Polyorbate 80, Vitamin E 
Eye Cream Aqua, Helianthus annuus (Sunflower) Seed Oil, Stearic Acid, Glycerin, Cetearyl Alcohol, Cera alba (Beeswax), Glyceryl Stearate, Dimethicone, Prunus amygdalus (Sweet Almond) dulcis Oil, Phenoxyethanol, Triethanolamine, Tocopheryl Acetate (Vitamin E), Caprylyl Glycol, Sodium PCA, Disodium EDTA, Aloe barbadensis (Aloe Vera) Leaf Juice Powder, Declyene Glycol, Theobroma cacao (Cocoa) Seed Butter, Cocos nucifera (Coconut) Oil, Butyrospermum parkii (Shea) Butter, Parfum (Fragrance)
Marvis Toothpaste glycerin, aluminium hydroxide, water silica, aroma (flavour), cellutose gum, titanium dioxide, sodium lauryl sulfate, sodium saccharin, sodium citrate, citric acid, eugenol limonene, benzyl alcohol (10ml).