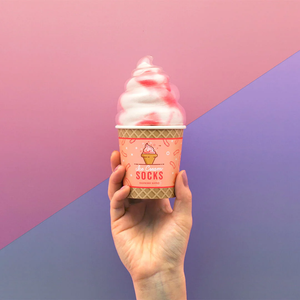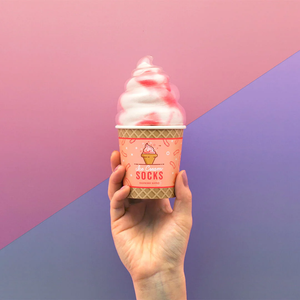 On Sale
Luckies - Socks | Ice Cream Socks | Raspberry Ripple
In those cold winter months, when you're daydreaming of a beach getaway with Raoul, slip on a pair of these Ice Cream Ankle Socks – they make it feel like summer! Packaged in a card cone, they make the perfect birthday gift for any BFF. Indulge in some speckled, tie-dyed ice cream...even if it's calorie-free. Crafted with one-size-fits-all construction and 80% cotton, you'll enjoy softness and warmth all year round. The perfect way to combine fashion and comfort, these Ice Cream Ankle Socks make the perfect addition to your wardrobe. Whether you're running errands or taking a nap on the couch, you can do it in style. Treat your feet with cozy, classic, Raspberry Ripple inspired style.

80% cotton
Ankle sock; one size fits all
Description :
Dimensions: 26 x 7.5 x 0.5 cm. Materials: cotton, plastic and card. Contains one pair of socks pictured.