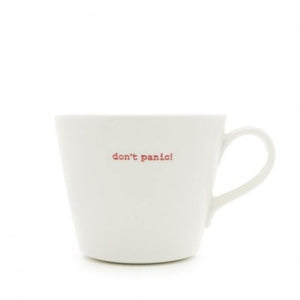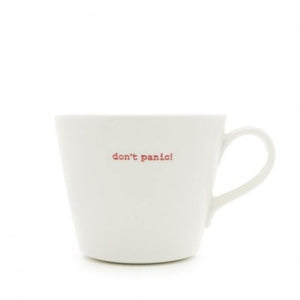 On Sale
Keith Brymer Jones Mug | Don't Panic!
Hand-finished and authentically crafted 350 ml Bucket Mug with the classic 'Don't Panic!' message debossed and hand-colored by Keith Brymer Jones. A stylish statement piece as part of the Word Range Collection. Bring charm and personality to your kitchen table with this unique and functional mug. Add a touch of iconic style with the 'Don't Panic!' message, and enjoy a cup of coffee, tea, or any other morning favorite. This mug will bring a smile to your day and make your kitchen table the most stylish setting in the house. Bring your morning routine to life with charm and personality - enjoy your favorite beverage with a touch of iconic style.
Description : Materials: Super White Porcelain. Capacity: 350ml. Dimensions: L 12.5cm x W 10cm x H 8cm. Weight: 280g.