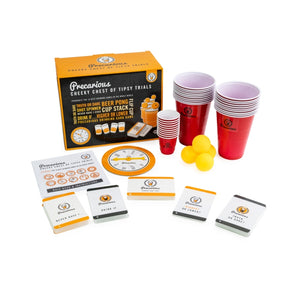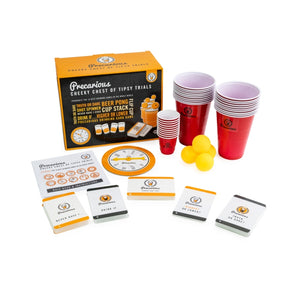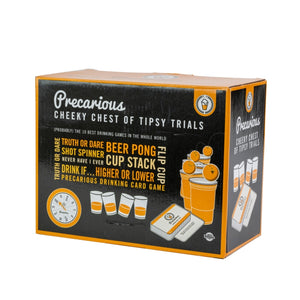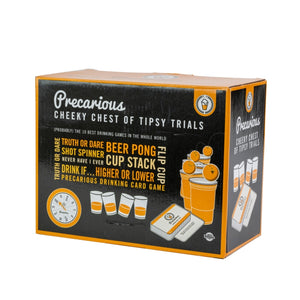 On Sale
Funtime Gifts Precarious Cheeky Chest Tipsy Trials Drinking Games
The Funtime Gifts Precarious Cheeky Chest contains the motherload of party games! Your next shindig will be taken to the next level with this compendium of the 10 best drinking games - cards, twists, dares, all-in-one box. Also included are 10 shot glasses and 20 washable cups. So, choose your game for each occasion, and get ready to get cheeky with the bright yellow ping pong balls! Rule book included, obviously. Are you ready for a wild time?
Description Each box contains: 20 x plastic washable/recyclable American style cups, 4 x ping pong Balls, 25 x Precarious cards, 25 x Never Have I Ever cards, 25 x Drink If cards, 25 x Truth or Dare cards, Precarious Spinner, 10 x shot glasses. Rule book.

Games:

Precarious Drinking Game: complete with brand-new Precarious Drinking Game cards.

Beer Pong:  20x cups + 4X balls

Never Have I Ever...A game to keep your wits about you!

Drink If…It's time to put your destiny in the cards control.

Rage Cage: Escape at all costs! A fast-paced game for any get together.

Cup Stack: Two players compete head-to-head to stack 9 Solo cups into a pyramid in this speedy skill-based game.

Shot Spinner: Simple yet wildly effective game to get the party started!

Higher or Lower: Choose wisely or get winey!

Truth or Dare: Reveal a brutal truth, or dare to be different.

Flip Cup: Ready, steady go. Welcome to flipping hell.
Funtime Gifts Precarious Cheeky Chest