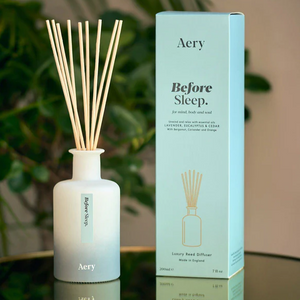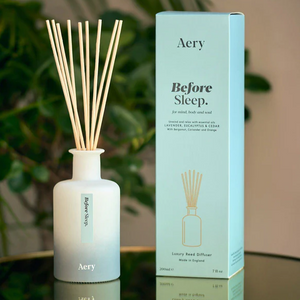 On Sale
Aery Living - Diffuser | Before Sleep Reed Diffuser | Lavender Eucalyptus & Cedar
Unwind with Before Sleep diffuser, a comforting blend of essential oils and fragrances of lavender, eucalyptus and cedar. Surround yourself with a calming scent that promotes restful sleep and helps ease your mind after a long day. Ideal for the master and guest bedrooms to help you drift off into cozy dreams. Enjoy a peaceful finish to your day and wake up feeling refreshed and energized.
Fragrance Strength - Subtle

Top notes - Bergamot, Coriander
Middle notes - Lavender, Jasmine 
Base notes - Cedarwood, Amber
Description : 200ml . Natural Reeds last up to 4 months. Made in England. Fully Recyclable packaging. Vegan & Cruelty-free.